What to Look for in a Home Listing
Blog posted On January 26, 2022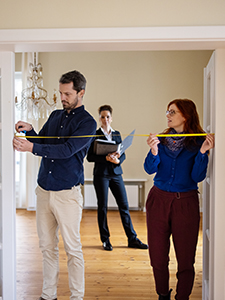 In a competitive housing market, you might not be as picky about your choices. But there's one factor to look at that could help you save money in the long run.
While browsing through potential homes, you'll likely look at features such as the number of rooms, number of bathrooms, year built, and of course, the price. One factor that might miss your eye is the home's price per square foot. "Looking at price per square foot instead of just asking price can give buyers significant insight — but it's rarely done," says Constantine Valhouli, director of research for NeighborhoodX, a real estate research and analytics firm. "It's a way for the average buyer to use easily available data to compare different listings."
If you compare two similar properties but one has a higher price per square foot, you might want to ask "why?" Here are some potential reasons:
Location

Amenities

Maintenance

Upgrades/ updates

Number of stories

Outdoor space
When comparing square footage, it's important to remember that "all square footage isn't created equal," says Khari Washington, broker and owner of 1st United Realty & Mortgage. For example:
A one-story home with the same square footage as a two-story home might be more expensive because it has more usable space

Stairs and landings take up square footage, as do closets and pantries

In some places, ceiling height can affect square footage calculations

Outdoor space doesn't always add the same value
Another important factor to consider when comparing square footage is where you're getting your numbers. The most accurate way to determine a home's square footage is to hire a professional to do the measurements. An appraiser can give you an official square footage measurement for roughly $150, according to Apartment Therapy.
Whether you're buying or selling a home, knowing the official square footage is crucial. If you're selling your home and you list it with an inaccurate square footage, the sale could fall through. Using tax documents isn't always reliable because they're typically based on builders' plans, which can change.
For more tips and home buying advice, don't hesitate to reach out.
Sources: Apartment Therapy, Apartment Therapy