What to Know About Insurance and Wildfires
Blog posted On September 08, 2021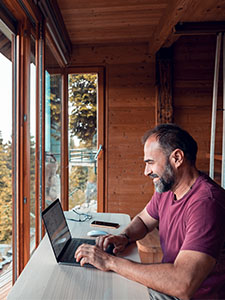 Over the past several years, the severity and size of wildfires across the U.S. have increased at an alarming rate. In 2020, nearly 40,000 forest fires destroyed 4 million acres of land. In California alone, almost 500,000 homes are located in wildfire zones – as are millions of other homes across the country. But many homeowners are unaware of their risk – leaving them vulnerable for hundreds of thousands of dollars in damage.
Lack of wildfire disclosures leaves homeowners vulnerable
Several states have wildfire-prone areas, but only two of those states require fire-risk disclosures for home buyers and renters. Additionally, the disclosures in those two states are only a couple of sentences long, buried in hundreds of pages of text. In other words, many homeowners are living in a wildfire-prone area and don't even know it. Consequently, they don't have wildfire insurance or a wildfire escape plan.
In contrast, 29 states require flood disclosures for home buyers. Within these disclosures, home buyers also know whether their property sits in a flood plain and how much flood insurance costs. This can help them better prepare for potential flooding by purchasing the necessary insurance to financially protect their home and belongings.
How to determine your home's wildfire risk
If you live in California or Oregon, your home's wildfire risk is a required disclosure. However, the necessary and helpful information isn't always clear in the disclosures. To find more information about your home's risk, you can explore the risk maps created by the U.S. Forest Service. Certain states such as California, Nevada, and Colorado, have wildfire risk assessments online that allow you to plug in your specific address. The best place to get the most detailed information about your home's wildfire risk is your insurance company.
What to know about wildfire insurance
Most homeowners insurance policies cover wildfire damages, but if you live in a higher-risk area, you might need to purchase additional coverage. Insurance companies will only pay a certain amount for wildfire damages, so if you need more coverage, you will need to buy it separately. To check your coverage, contact your insurance agent. Make sure that you have a full understanding of your coverage, deductible, and risk. Typical homeowners insurance policies will cover:
Home's structure – Your policy should cover any repair costs to fix your home's structure from damages caused by natural disasters like fire, hail, or lightning.
Personal belongings – Fire damage to furniture, clothes, jewelry and even certain landscaping, like trees, is covered.
Liability protection – If you or someone else in your family damages something in another person's home, you are covered.
Additional living expenses – If your home is unlivable due to a wildfire or other natural disaster, this covers the costs of living away from home while the damages are repaired. If you need to stay in a hotel, this will cover those charges. It also covers transportation costs.
Other ways to protect your home from wildfires
Insurance will cover your home financially, but there are certain steps you can take to better protect it physically as well.
Use strategic landscaping – When landscaping your yard, make sure that you're using non-flammable materials like cement and stone and try to clear your yard of as much vegetation and debris as possible. Keep a well-maintained lawn and don't store propane tanks (for grills) near your home.
Install a fire-resistant roof – Your home might already have a fire-resistant roof, so check its material before replacing it. Then, get a professional to install a Class A fire-rated roof and noncombustible gutter covers. Throughout the year, make sure your gutters and roof stay clear of leaves and debris.
Install safer windows – Multi-pane tempered-glass windows are safer than single-pane windows. Window screens can also protect your home from floating embers.
Use noncombustible deck materials – Make sure that your deck is made from non-combustible materials and complies with your local fire codes. Keep it clean of debris and don't store flammable items near it.
Create an evacuation plan – If it comes to evacuating your home, make sure that your family has a plan. Know what you're taking and try to get out of the house as fast as possible. Set up a meeting point and determine different escape routes.
Start a home inventory list – Your insurance company will ask a lot of questions about what was lost in the fire – which can be hard to remember just from the day-to-day. Making a list can help expedite your claim.
Hopefully, you'll never have to use your evacuation plan or wildfire insurance. But in the chance that you will, it's always better to be safe than sorry.