What to Know About Home Insurance for Second Homes
Blog posted On September 15, 2021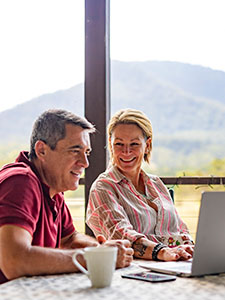 Second homes used to be a sort of escape for many Americans. Getting out of town, away from the office, and heading to the beach to feel some fresh breeze or visiting the mountains to be surrounded by trees instead of high rises. Now, second homes are starting to climb their way into the starting lineup. With the increasing flexibility to work remotely and the decreased desire to head back to crowded spaces, many people have extended their stay in a second home…permanently. If you do have this flexibility, that's great. But if you decide to stay at your second home longer than a typical vacation, then you might want to consider updating your home insurance coverage.
Why updating your insurance is important
Insurance on a vacant property differs from a place of primary residency. If a home is empty, it is seen as riskier from an insurance perspective. This is because there is a greater likelihood of greater magnitudes of damage in an empty house. For example, no one will notice a small leak in a vacant house, which can eventually cause major issues.
Vacant home insurance also differs from primary residence insurance because it covers the structure but not the contents of the home. So, if you're living at your vacation home primarily, and have all of your belongings there, then secondary home insurance is probably not what you want.
What happens when you switch insurance
When you switch your residency, ""[You] have to almost reverse the protections you had previously," says Richard Lavey, president of Hanover Agency Markets at the Hanover Insurance Group. Because your vacation home will now have most of your important day-to-day belongings, you'll want to get the primary home coverage that covers the contents inside the home. "If you're going to make that house your primary residence, you may want to rethink your content inventory and the limits on your policy," says Cathy Seifert, an insurance analyst at CFRA Research. "[…] you probably have higher-value possessions in there."
Ideally, savings from insuring your second home would offset the higher premiums for your old primary residence (which is now lesser occupied). But don't expect a big drop in insurance savings when you make a switch in residency.
If you've renovated your home or vacation home recently, you should assess your coverage to make sure that it still can cover rebuilding costs in case of extensive home damage. Making small changes, like adding insulation or updating windows, should be protected by your insurance, but it's always best to check with your insurer.
You should also notify your insurer if your second home will no longer be a rental property. "Policies will be structured differently if it's your home and not your rental property, but also not your primary residence," says Seifert. "If you were renting it, chances are you had a larger liability rider. You might no longer need that kind of a rider."
Taking advantage of work-from-home flexibility is a great idea for numerous reasons – the ability to work from anywhere being one. Just make sure that everyone is in the loop about your changes – including your insurance company and your lender. Changing from a rental to non-rental or vice versa may or may not be doable with your current mortgage, so contact us to double check!
Sources: Money