Survey: Most Homeowners Are Missing Out on Significant Savings
Blog posted On September 07, 2021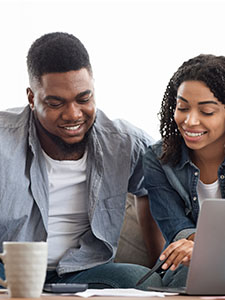 Since the beginning of the pandemic, mortgage rates have been hovering near historic lows – fueling the red-hot housing market with millions of eager buyers. From 2019 to 2020, a record 2.1 million buyers became owners, matching the largest increase from 2003 to 2004. Home buyers are taking full advantage of the record low rates. Homeowners, on the other hand, are still missing out on the opportunity of a lifetime.
According to a new survey from Bankrate, almost 75% of owners who bought their house pre-pandemic have yet to refinance their home. This means that the majority of homeowners are missing out on thousands of dollars of savings. The average 30-year fixed mortgage rate was hovering at or above 4% before COVID-19. Now, most rates are trending at least a full percentage point lower. If you previously had a $250,000 mortgage with a 30-year fixed mortgage rate of 4.5%*, your monthly payments would be $1,267 and your total interest over the life of your loan would add up to $206,017. If you had the same mortgage with an interest rate of 3%*, your monthly payments would be $1,054 and your lifetime loan interest would add up to $129,444. That's at least $200 per month and over $75,000 in total interest savings!
So why haven't more homeowners refinanced? One large factor is that almost 40% of homeowners don't know their current mortgage rate. For Millennials, that percentage climbs to 54%. If you don't know your current rate, then you likely don't know how much you could be saving. Another factor is the hope for rates to continue falling. This is a fair concern, but is it worth the risk? Right now, most homeowners could be saving thousands of dollars if they refinance. While you might be able to increase those savings, you also might miss out on the opportunity altogether. "It's a great time to refinance, it's very hard to predict what the Fed is going to do and try to time interest rates; it's almost like trying to time the market," says Seth Mullikin, certified financial planner in North Carolina. "But just from a practical standpoint, [rates] can't go much lower." Even if rates do end up dropping, it likely won't be by much.
Right now, the Fed has already begun discussing the tapering of assets and raising the benchmark interest rate. When this happens, mortgage rates will likely rise as well. "If they do start to raise rates, I think most people wish they went ahead and refinanced," Mullikin says, "So I would encourage people to go ahead and do it, or at least look into refinancing, if they have not already."
There are additional reasons why homeowners haven't refinanced yet. Responses from a Bankrate survey found that 32% of respondents didn't think they would save enough money and 23% said it would be too much paperwork. "It mirrors what we have seen in other surveys that we've done in years past," says Greg McBride, chief financial analyst at Bankrate. "But rates are so low now, that a lot of those reasons just don't stand up." McBride does acknowledge and respect the time commitment of refinancing, admitting that it is a process. "Yes, it's probably going to take a handful of hours of your time over the course of the next 30 days. But if you can save $10,000 In the next five years that works out to a pretty good hourly rate" of return for your time."
Plus, some homeowners have a much different refinancing experience than what they had expected. "[My refinance] was relatively quick and easy," Mullikin says. "I was expecting it to be more drawn out, but as soon as we went online and as soon as we put the information in and clicked asking them to call us, they called probably within two minutes."
If you find the right lender, refinancing can be a very smooth and simple process – and well worth your time. If you would like to explore your refinancing options and asses your potential savings, contact us today!
*Payment example: If you choose a $250,000, 30 year loan at a fixed rate of 3.3% (APR 3.5%), you would make 360 payments of $1,122.61. Payment stated does not include taxes and insurance, which will result in a higher payment.
Sources: Grow, Pew Research