Renovation Loans Are on the Rise
Blog posted On June 07, 2022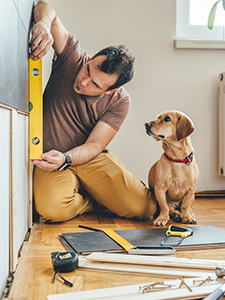 Mortgage rates have been sharply trending upward in recent months, causing many potential buyers to pick up their home hunting pace. Locking a mortgage rate now could prevent you from paying for a higher rate later, should they continue trending upward. However, home inventory is still very low – leaving buyers few options on the market. The newer, more updated homes are selling quickly, and for a steep price. But that doesn't mean that all hope is lost. One financing option that's saving the day for many is Renovation Loans.
Renovation Loans combine the costs of a home purchase (or refinance) with the costs of home renovations. They can be a great alternative to taking out personal loans because of their comparatively low interest rates. Recently, they've become especially popular since homeowners have a record amount of equity and buyers have limited, high-priced options.
Since the COVID pandemic, many homeowners have been craving more space in their homes. The first thought is to browse for a different home with more square footage. But this can be more complicated (and costly) in a low inventory market. Instead, you might consider tapping into some of the equity you've earned over the past few years and renovate your current home. Plus, you can use the post-renovation appraised value to limit your funds needed at closing. A Renovation Loan also allows you to get the custom build you're looking for without moving neighborhoods.
For home buyers, Renovation Loans are great opportunity in the current market. Because of the high competition and limited options in the current market, many buyers might not find the perfect style of home in the perfect location for the perfect price. However, with a Renovation Loan you can have it all. It expands your options so that you can choose the location that you want, buy a house at a more affordable price, and remodel it to fit your perfect vision. "The bulk of housing is going to need some renovation," said Sarah Wheeler, editor in chief of HousingWire. "So I agree [that] this is a real opportunity for people..."
As mortgage rates climb, builders will likely ease up on their pace of construction. "I think we're going to see a lot more of [Renovation Loans], given that we're not seeing any huge amount of construction that's going to completely change the composition of the housing market any time soon," said HousingWire Managing Editor James Kleimann.
You're a homeowner home buyer that would like to learn more about our Renovation Loan opportunities, contact us.
Sources: HousingWire