Pros and Cons of Pocket Listings
Blog posted On August 19, 2021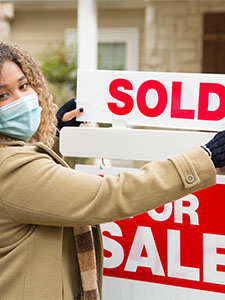 Pocket listings – often called exclusive listings or off-MLS listings – are essentially properties that are sold by word of mouth instead of the MLS system. The MLS, or multiple listing service, is an online database where real estate agents register different homes for sale. Once an agent puts a house into the MLS, the listing is automatically shared with other agents and sites such as Redfin, Zillow, and Realtor.com. "A pocket listing is essentially a privately sold home," says Amber Taufen, managing editor at HomeLight's Buyer Resource Center. "Buyers need to have some sort of connection to the brokerage, the listing agent or the home seller in order to hear about the property." Why would a seller want fewer buyers making offers on their home?
How many homes are sold privately?
Due to the exclusive nature of pocket listings, it's difficult to determine how many homes are sold this way. However, it's likely that listings immediately marked as sold or pending were pocket listings. According to a Redfin analysis, the number of pocket listings shot up from 1.8% in June 2019 to 2.8% in June 2021.
Common reasons for pocket listings
Pocket listings have been gaining traction over the past couple of years likely because of the high home buyer demand and low home seller desire to have their home open to the public. During the COVID-19 pandemic, many sellers didn't want people walking through their homes and risking potential exposure. With the unusually high demand for homes, it was easier for agents to sell homes via word of mouth.
Pros of pocket listings
Privacy
One of the biggest pros of selling your home via a pocket listing is the privacy. When your home isn't made available to the public, you don't need to do open houses and can limit the foot traffic in your home. Pocket listings give you more control over who enters your house and how many people come in at once. This way, your home doesn't always need to be 'show ready' too.
A way to test the market
If you are unsure about selling, this could be a good way to test the waters. It can give you information like how many people are actually interested in buying your home and for how much. So, if you eventually want to put your home on the market via MLS, you can get a better idea of where to price it.
Lower expenses and fees
By not listing your home to the public, you can save significant money on fees like professional photography, public marketing, and commissions. Though you will still need to pay your REALTOR®, it could be lower without the price of marketing campaigns for your home.
Cons of pocket listings
Lower sales prices
Pocket listings could also backfire when it comes to pricing. If you go through with a sale completely off the MLS, you're limiting the number of potential buyers that will make offers on your home. In a competitive market, buyers will likely offer prices higher than your listing price to try and beat out the competition. "For most sellers, maximum exposure is going to get you the best sales price," says Matt van Winkle, broker and owner of RE/MAX Northwest Realtors. Homes listed and sold through the MLS raked in 17% higher sales prices than those sold under the radar.
Potential violations
Pocket listings can be controversial because it can walk a fine line on housing discrimination laws. Plus, some real estate brokerages might refuse to sell pocket listings because of the possible fines. "The reality is the housing market is already segregated due to decades of discriminatory practices, and pocket listings are inherently discriminatory because they only show homes to an exclusive group of buyers, who tend to be white," says Kate Scott, executive director of the Equal Rights Center. "People of color don't usually have access to pocket listings."
There are many important decisions made when selling or buying a home. Often, the best way to navigate these decisions is with a trusted real estate agent by your side. If you need any help finding a trusted REALTOR®, we would be happy to share our recommendations.
Sources: Money