Out-of-Town Buyers are Headed Back to the Cities
Blog posted On August 10, 2021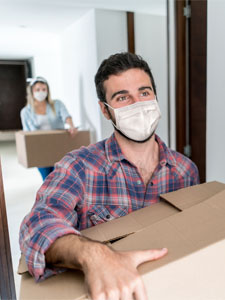 After a year-long drought, home buyers are flooding big cities once again. When COVID-19 sent the nation into lockdown last year, many buyers fled crowded urban areas in search of larger homes, bigger yards, and more space. Now, with increasing vaccination rates and reopening offices, people are returning to metropolitan hubs – and bringing steep home offers with them. Many out-of-town buyers are offering much more than the asking price on homes, which is putting pressure on local buyers.
Buyers returning to cities
Earlier this year, Redfin reported that their pageviews for city listings were up 62% annually. Their pageview growth for small towns was only up 30% and pageview growth for rural areas was up 18%. Right now, cities have more housing inventory and slower sales than suburban areas – giving buyers the perfect opportunity to purchase. New listings in urban areas rose 1% year-over-year during the Spring while new listings in the suburbs fell 5%. Smaller cities are seeing even more action. The pandemic made many people realize that they want the best of both worlds – the space of a suburban neighborhood with the perks of a larger metropolis. Charlotte, North Carolina saw a 466% annual increase in mortgage applications during the first quarter of the year. Consequently, prices have jumped 15% year-over-year as well.
Prices in popular cities surging
Redfin analyzed sales data in 10 trending cities that had the highest inflow of people during the second quarter. In the majority of these cities, migrating buyers made much larger offers than local buyers. In Austin, TX, out-of-town buyers paid 7.8% above asking price for their homes while local buyers only offered 3.7% above asking price. In Dallas, TX, out-of-town buyers paid 2.5% above asking price while locals paid 0.8% above asking price. In Boise, ID, out-of-town buyers made an average offer 2% above asking price while locals offered 0.2% below asking price. Out-of-town buyers are edging out locals in the home buying competition. Oftentimes, people moving into a popular location from out of town simply make more money than the locals. In Austin, TX, for example, out-of-town buyers had an average budget 32% higher than the usual budget for residents. "Having more income means they can get prequalified to offer more money, or many will have cash," said real estate agent Alexandra Schrank. "Out-of-towners are beating out the locals." Other contributing factors include their sources of income. Many young buyers that are beating their competition have income from several sources including family members.
Is it a good time to buy in the city?
The rural and suburban rush drew many eager buyers out of the city last year. As the demand for rural and suburban homes skyrocketed and inventory plummeted, home prices shot up. Meanwhile, cities are now seeing more inventory and more reasonable prices. By taking advantage of the slower city housing market right now, you could purchase a condo or home in an area where you previously would've had to rent. Even if you choose not to live in the condo or home, you could opt to rent it out and have a steady stream of passive income. As more people return to the city, you will be able to charge more for rent in a high-demand area.
With mortgage rates still near historic lows, now is the perfect time to take advantage of property listings in the city. Whether you're purchasing an investment property or a primary residence, we have several mortgage options that can help you make the most of the market's opportunity. To learn more about your different financing options, contact us today!