New Home vs. Existing Home: Which is Right for You?
Blog posted On July 06, 2022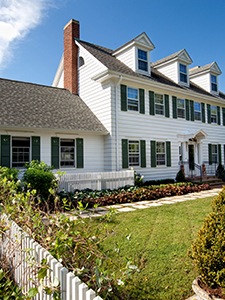 Buying a brand-new home is more appealing for many home buyers. But does 'new' always mean better quality? Here are some of the pros and cons to both new and existing homes.
Purchasing a New Home
Brand new, no major issues –

One of the most significant advantages of moving into a new home is that all major systems should be working properly. You'll have brand new AC units, a new water heater, and new plumbing.

New technology –

New homes come with all the updated technology like smart appliances, USB outlets, thermostats connected to Wi-Fi, and front door locks that can be controlled from your phone.

Easier to purchase –

Home builders often have their own in-house financing or preferred lenders. The builder is motivated to get the deal done, so they will work with these lenders to get you approved.

Less competition

– If you are looking at a brand-new neighborhood, you can choose from many different lots and floorplans.

Higher purchase price –

With a new home, you will typically pay a higher price, but you will pay less for renovation and maintenance costs down the road.
Purchasing an Existing Home
Home with character

– Older homes tend to have more character and charm than the new construction homes. If you are looking for something more unique, then you should look for an existing home that you can renovate to suit your style.

Can be cheaper –

Older homes without all the new bells and whistles can be more affordable than buying a new home. But remember that you may have to pay more for updates, repairs, and maintenance.

May have unknown problems

– An older home can have issues that may have been unknown through the inspection. To protect your wallet in the future, it is a good idea to purchase a home warranty that can help with hefty repair costs that may arise.
Purchasing a new or existing home at the end of the day depends on your home goals and your overall budget. Are you ready to start your home search? Reach out to us today to get started on the pre-approval process!
Sources: Investopedia