More Home Buyers Rush to Lock in Rates
Blog posted On April 19, 2022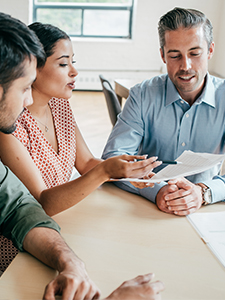 Mortgage rates have been climbing at the fastest pace since 1994. Last week, the average 30-year fixed-rate hit levels not seen since 2009. Higher mortgage rates typically lead to fewer mortgage applications and originations. Last month proved the opposite. Despite rapidly rising rates, mortgage origination activity increased in March. But why? Could a mortgage rate lock be right for you?
Overall mortgage origination activity spiked 19% month-over-month in March, with origination on purchase loan locks rising 31%. In comparison, cash-out refinance origination activity inched up 1.6% and rate-term refinance activity fell 15.4%.
The rise in purchase origination activity comes somewhat as a shock because it came concurrently with the fastest one-month jump for 30-year mortgage rates in 13 years. It also came as home prices continued to skyrocket at a record pace. In February, home prices rose 20% year-over-year, causing the average loan size to rise by more than 23% in March.
All in all, home buyers who have purchased this year are much more likely to have larger loans and higher monthly mortgage payments than those who purchased last year. So why is purchase origination activity increasing?
Simply put, prospective home buyers are jumping off the sidelines to lock in current rates before they climb any higher. Although mortgage rates are much higher than they were one or two years ago, they're most likely lower than where they'll be in a year or two from now. The low rates during the COVID-19 pandemic were an anomaly. Though rates have fallen before, they've never dropped that low – and it's unlikely they will again. The economy was in a very unique state from 2020-2021. An unknown pandemic spread across the globe and threw most of the world off balance, including mortgage rates and the housing market. Unless something to that extreme happens again, it's very improbable that rates will naturally fall that low.
Most buyers who are locking in their rates are probably considering the larger picture. Rather than comparing current rates to pandemic rates, some buyers might be looking at the historic rate trends. Until about 20 years ago, the average 30-year fixed mortgage rate hovered around 7.5% or above. In 1981, rates were at a level of 18.6%. Compared to average rates throughout history, the current mortgage rates are not all that high.
We offer several rate lock products that can help you take advantage of the current market rate. So, if you would like to learn more about rate locks or get started on your loan, let us know!
Sources: FRED, HousingWire, Mortgage News Daily,