Market Update: Rates Unchanged, Job Openings Coming Up This Week
Blog posted On September 06, 2021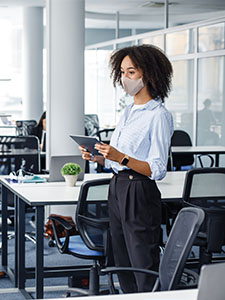 Mortgage rates were trending lower toward the beginning of last week and started trending higher towards the latter half of the week – leaving them relatively unchanged from the week prior. Not much happened in the bond market last week until Friday's job's report – which came in much lower than expected. Economists predicted nonfarm payrolls to increase by over 700,000 in August, but they only grew by 235,000. The limited growth likely reflects the rising concerns and restrictions with the Delta variant. Job growth is a key factor that the Fed is watching to determine when to taper their asset purchases. While the Fed had previously expressed optimism about the job gains, they could reassess their tapering timeline if jobs data continues to slow down.
This week, we have the weekly mortgage application report and the Labor Department's Job Openings and Labor Turnover Survey (JOLTS), both scheduled for release on Wednesday.
The Mortgage Bankers Association (MBA) weekly mortgage application survey tracks week to week changes in the submission of new purchase and refinance mortgage applications. During the week ending 8/27, mortgage applications saw a composite decrease of 2.4%. The Refinance Index fell 4% while the Purchase Index increased 1%. Despite mortgage rates trending lower due to Delta concerns, many homeowners are still waiting for them to drop even more before refinancing. Home buyers, on the other hand, helped purchase activity hit its highest level since early July. With rates trending even lower near the beginning of last week, we could see this activity pick up even more.
The Labor Department's Job Openings and Labor Turnover Survey (JOLTS) tracks month to month changes in job openings, hirings, and voluntary quits. Job openings hit a record high in June – surging to a level of 10.1 million. Earlier in the summer, when fewer restrictions were in place due to the Delta variant, more consumers were starting to venture out to restaurants, hotels, and other service-industry businesses. The high demand for these services left employers desperately seeking more workers. However, the labor supply remains constrained by ongoing health concerns, childcare issues, and enhanced unemployment benefits. Many economists believe the labor supply will slowly start to increase over the next few months as these enhanced benefits begin to expire and children head back to in-person school. Other data collected by the JOLTS includes the quits rate, up 2.7% and total hires, up 4.6%. When more people voluntarily leave their jobs, it typically signals that the economy is doing well and they are confident they can get another, better opportunity elsewhere.
In other news this week, consumer credit is scheduled for release on Wednesday afternoon, and the weekly jobless claims survey is scheduled for release on Thursday.
As rates still hover near historic lows, many homeowners are in a great position to refinance and save thousands over the life of their loan, or even get cash out right away. Many homeowners haven't refinanced yet because they don't know their current mortgage rate. If you're unsure about what you're paying for interest every month, we would be happy to help you find out.
Sources: Bloomberg, Bloomberg, MBA, Mortgage News Daily