Market Update: Rates Trend Higher; Pending Home Sales, Case-Shiller Home Price Index, Construction Spending Coming Up This Week
Blog posted On November 29, 2021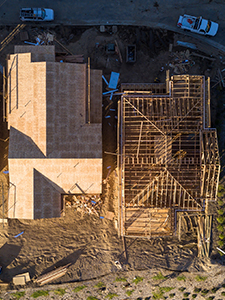 Last week, mortgage rates trended higher in reaction to the bond market. Typically, when the bond market is weaker, mortgage rates trend higher. The bond market saw its first pair of challenges early in the week with the re-nomination of Federal Reserve Chairman Jerome Powell. Though the re-nomination was largely expected, some hoped for the nomination of Fed Governor Lael Brainard. Brainard was viewed as a rate-friendly choice. Powell, however, has successfully navigated two years of the coronavirus pandemic. Additional bond pressure came from the Treasury auctions.
This week, rates could potentially be impacted by three important housing reports. On Monday, the pending home sales report is scheduled for release. The S&P Case-Shiller home price index is scheduled for release on Tuesday, followed by the construction spending report on Wednesday.
The pending home sales index tracks changes in the number of homes that are under contract but not yet closed. In September, pending home sales fell 2.3% month-over-month. Analysts had expected a slight gain. The monthly rise could have been related to the slightly higher mortgage rate trend during September. During that time, mortgage rates were trending slightly upward in anticipation of the Federal Reserve's tapering announcement. Historically, when the Fed tapers asset purchases, interest rates rise. Another reason for the decrease could be soaring home price appreciation. Though the market has been showing signs of cooling prices, they were hitting their peak appreciation levels towards the middle of the Summer.
The S&P Case-Shiller home price index tracks changes in the value of homes involved in two or more sales transactions across 20 major metropolitan areas throughout the country. Though the data lags by a month, it is still used to gauge home price appreciation trends. In August, home prices increased 19.7% year-over-year. The month before, home prices were appreciating 20% year-over-year. "August data also suggest that the growth in housing prices, while still very strong, may be beginning to decelerate," said Craig Lazzara, managing director and global head of index investment strategy at S&P DJI.
The U.S. construction spending report tracks total spending on private and public construction projects. In September, construction spending fell 0.5%. The fall was unexpected, as economists predicted a gain of 0.4%. Continued high home buyer demand is putting pressure on home builders, as are shortages and high prices of building materials. Year-over-year, construction spending is still up at 7.8%.
As the weather continues to cool off, it's likely that home prices will continue cooling as well. Meanwhile, mortgage rates are starting to trend upward. To try and maximize low rates while snatching a low home price, you need to be ready to act fast. Getting preapproved is the first step that can prepare you to enter the market and make a strong offer on a home. To get started on your preapproval, click the "Get Started" button above.
Sources: Bloomberg, CNBC, CNBC, Mortgage News Daily, Reuters