Market Update: Rates Trend Higher; NAHB Housing Market Index, Housing Starts and Building Permits, and Existing Home Sales Coming Up This Week
Blog posted On April 18, 2022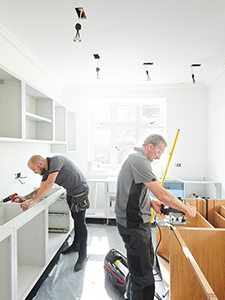 Mortgage rates fluctuated last week, ultimately trending higher by the end of the week. Much of the movement has to do with inflation levels and market predictions on what the Federal Reserve will do in its May meeting.
This week, there are several important housing reports scheduled for release. On Monday, the National Association of Home Builders' (NAHB) is scheduled for release. On Tuesday, housing starts and building permits will be coming out, followed by existing sales on Wednesday.
The National Association of Home Builders' (NAHB) housing market sentiment index is based on a survey of home builders' perceptions on current sales activity, sales expectations for the next six months, and buyer foot traffic. Any reading above 50 is considered positive. In March, the NAHB index fell to a level of 79 as material prices continued to climb.
Housing starts track ground broken on residential projects and building permits track permits issued. In February, building permits fell 1.9% to a level of 1.86 million. This is still 7.7% above the February 2021 level. Housing starts increased 6.8% to a level of 1.77 million. According to Citigroup Chief Economist in New York, Isfar Munir, there were a large number of homes that have been sold but not yet started. It's possible that we could see this uptick in starts in this upcoming report.
Existing home sales or resales track the sales of previously constructed homes and make up approximately 90% of residential real estate transactions. Existing home sales fell 7.2% to a level of 6.02 million. The inventory of unsold existing homes slightly increased to 870,000, equivalent to 1.7 months of supply at the current monthly sales pace. With a rise in mortgage rates, it's hopeful that the sales of existing homes could slow enough to bring inventory up higher.
As rates continue trending high, more buyers might explore their adjustable-rate mortgage (ARM) options. Oftentimes, an ARM has a lower introductory rate that fixed-rate mortgage. One of our ARM options that could save you thousands in interest is the All In One Loan™. If you would like to learn more about ARMs or the All In One™, let us know!
Sources: Bloomberg, Census.com, Mortgage News Daily, NAR, Reuters,