Market Update: Rates Rise, Job Openings and Consumer Price Index Coming Up This Week
Blog posted On October 11, 2021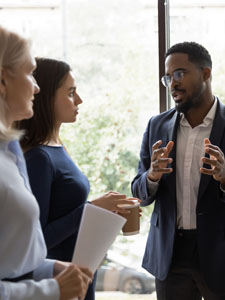 Mortgage rates trended upward again last week with some weakening in the bond market and strong job reports. When the bond market is weaker, rates tend to be higher. The ADP employment report showed a stronger-than-expected number of nonfarm jobs hirings. Friday's job reports, however, showed lower-than-expected results. Therefore, the bond market volatility seemed to level out by the end of the week but may heat up again this week.
This week, we have more jobs-related data coming out. On Tuesday, the Labor Department's Job Openings and Labor Turnover Survey (JOLTS) is scheduled for release. Then we will look at the consumer price index on Wednesday.
The Labor Department's Job Openings and Labor Turnover Survey (JOLTS) tracks month-to-month changes in job openings, hirings, and voluntary quits. In July, job openings rose to a record high of 10.9 million. Hirings fell by 160,000, and layoffs climbed by 105,000. Overall, the data suggests that employers are having a hard time finding workers. Lack of affordable childcare, continued COVID fears, and extensive unemployment benefits have all contributed to the tight labor market. However, the JOLTS data lags by two months. During the summer, kids are out of school, requiring parents to either stay home from work or hire childcare. Once we start seeing data from August and September, we could see an improvement in labor market. The Federal Reserve is monitoring the employment situation very closely, and as we saw last week, and it is continuing to show improvement.
The consumer price index tracks the changes in the average prices of a fixed basket of goods and services sold to final consumers. Though it's not the Federal Reserve's preferred inflation measurement, it still can give a good general gauge of where inflation is headed. In August, the consumer price index rose 0.3%. Year-over-year, this equated to a gain of 5.3%. The core consumer price index, stripping food and energy, was at a 4% year-over-year level. The Federal Reserve's target inflation level was 2%. An inflation level holding steadily above 2% is a sign of economic strength, and another step pushing the Federal Reserve to taper assets and raise interest rates.
Also scheduled for release on Wednesday are the Federal Open Market Committee (FOMC) minutes from their September meeting. FOMC minutes can affect the market and rates. The weekly mortgage application survey is also scheduled for release on Wednesday and the weekly jobless claims report comes out Thursday morning. On Friday, the report on retail sales will be released.
Mortgage rates are starting to trend higher from the pandemic lows. However, if you lock in your rates soon, you could still save big on your interest costs. To get started on your mortgage application, click "Get Started" above.
Sources: Bloomberg, Mortgage News Daily, MarketWatch, Reuters, Reuters