Market Update: Rates Rise; Housing Starts and Building Permits, Existing Home Sales, and FOMC Announcement Coming Up This Week
Blog posted On September 19, 2022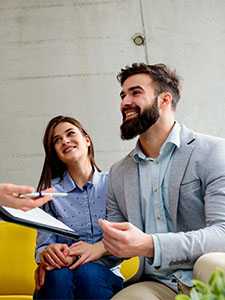 Mortgage rates trended higher last week after the consumer price index showed much higher levels of inflation than what economists were expecting. The market was also preparing for the upcoming Federal Open Market Committee (FOMC) meeting later this week, which will reveal any increases to the benchmark interest rate. Oftentimes the market tries to predict any hikes the Fed might make and price itself for those changes.
The Federal Open Market Committee (FOMC) sets the federal funds rate. The federal funds rate will influence mortgage rates but not set them exactly. When the Fed raises rates, mortgage rates typically go up. When the Fed lowers rates, mortgage rates typically go down. Following the Fed's most recent meeting, it announced another rate hike of 0.75%, which brought the Federal Funds Rate to a range of 2.25%-2.50%. Following months of stronger-than-expected economic reports and resilient inflation levels, many experts are predicting another aggressive move by the Fed this week.
Housing starts track ground broken on residential projects and building permits track permits issued. In July, housing starts were at a seasonally adjusted annual rate of 1.45 million, a 9.6% month-over-month decline. Building permits were at a seasonally adjusted annual rate of 1.69 million, a 0.6% drop from the month before. Increasing mortgage rates have been impacting builders' production levels.
Existing home sales or resales track the sales of previously constructed homes and make up approximately 90% of residential real estate transactions. Existing home sales were at a seasonally adjusted annual rate of 4.81 million units in July. This is 5.6% lower than the seasonally adjusted annual rate in June. Rising mortgage rates are putting increasing financial pressure on many buyers, but home prices are expected to show more deceleration in coming months. We also offer several mortgage products that can ease the strain of rising rates like adjsutable-rate mortgages (ARMs) and our Mortgage Payment Buydown.
As more important market-moving data continues to be released, we will continue to keep you updated. Let us know if you have any further questions.
Sources: Bloomberg, Mortgage News Daily