Market Update: Rates Rise; Existing Home Sales, New Home Sales Coming Up This Week
Blog posted On November 22, 2021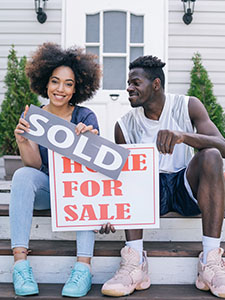 In the former half of last week, mortgage rates saw a slight upward trend after the release of more reports showing strong economic performance. On Tuesday, the retail sales report showed a 1.7% increase in October – the strongest monthly retail sales data in several years. Typically, when the economy grows stronger, interest rates trend higher. However, "In the bigger picture, rates are still [trending] very low," said contributors at Mortgage News Daily.
Coming up this week, both the existing home sales and new home sales report are scheduled for release.
Existing home sales or resales track the sales of previously constructed homes and make up approximately 90% of residential real estate transactions. In September, existing home sales surged to an eight-month high – a seasonally adjusted annual rate of 6.29 million units. Economists at Reuters had expected a seasonal adjusted annual rate of 6.09 million units. The 7% jump in existing sales was the largest monthly increase in a year. The increase was likely related to the lower trend in mortgage rates at the time. It also could be related to the cooling price growth of homes. Overall, existing home sales have dropped 2.3% from their level in September 2020. This is consistent with the belief that the housing market is starting to moderate. In March 2020, existing home sales saw a sharp downward trend due to the onset of the coronavirus pandemic. When mortgage rates dropped to historic lows, home sales spiked drastically. Now, we're starting to see them return to more normal levels – which is a good sign overall for the market. The more gradually we can return to normal, the better.
The new home sales report tracks the sales of newly constructed homes and accounts for about 10% of total residential real estate transactions. In September, new home sales showed a similar trajectory as existing home sales. New home sales surged 14% month-over-month in September to reach a seasonally adjusted annual rate of 800,000 units – a six-month high. One reason for the new home sale surge is low inventory of existing homes for sale. Fewer people are putting their homes on the market, while more homes are in demand. In September, there were only 1.27 million existing homes on the market – a 13% drop from September 2020. At the current sales pace, it would take 2.4 months to exhaust the existing home inventory. The 'normal' existing home inventory is six to seven months. Therefore, with fewer existing homes on the market, more people are turning to newly built homes.
In addition to the existing and new home sales reports, the GDP estimates for the third quarter of 2021, core PCE index, personal income, and consumer spending reports are all scheduled for release as well.
Three in four new homes sold in September were either under construction or yet to be built. If you're interested in financing a new construction, let us know. We have several great new construction financing options including our low down payment option, the FHA New Construction Loan.
Sources: Bloomberg, Bloomberg, CNBC, Mortgage News Daily, Mortgage News Daily, Reuters