Market Update: Rates Rise; Case-Shiller Home Price Index, Pending Home Sales Coming Up This Week
Blog posted On April 25, 2022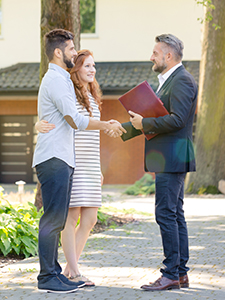 Last week, mortgage rates trended upward. The cause, which was well explained by Matthew Graham at Mortgage News Daily, "[has remained] relatively unchanged over the past several months and almost perfectly unchanged over the past 6 weeks. Specifically, the Fed was in the process of making a significant shift in its monetary policy stance between September 2021 and the present. This involved faster rate hikes and bigger steps toward reducing bond purchases."
This week, there are several important housing reports scheduled for release. On Tuesday, the Case-Shiller home price index will reveal price appreciation in February. On Wednesday morning, the pending home sales index for March will be released.
The S&P Case-Shiller home price index tracks changes in the value of homes involved in two or more sales transactions across 20 major metropolitan areas throughout the country. Though the data lags by a month, it is still used to gauge home price appreciation trends. In January, the 20-city Case-Shiller home price index revealed that prices were appreciating at an accelerated pace of 1.8% month-over-month and 19.1% year-over-year. This is a hefty jump from December's 18.6% increase year-over-year. However, "we may soon begin to see the impact of increasing mortgage rates on home prices," said Craig Lazzara, managing director at S&P Dow Jones Indices.
The pending home sales index tracks changes in the number of homes that are under contract but not yet closed. Typically, they are a good indicator for future home sales. In February, pending home sales decreased by 4.1% month-over-month. Compared to February 2021, the index was down 5.4%. "There has been a pronounced sense of urgency to lock in a mortgage rate and get into a property," said Paul Legere, a buyer's agent with Joel Nelson Group in Washington, D.C. "In my market at least, buyers are not electing to rent as an alternative."
Also scheduled for release this week is the Federal Housing Finance Agency's (FHFA) home price index and new home sales. The GDP estimate for Q1 of 2022 is also coming up this week, as is the PCE index, personal income, consumer spending, and the weekly jobless claims and mortgage application reports.
As home prices and mortgage rates continue to accelerate, rate locks have become increasingly more prominent. If you're interested in buying within the next year, ask us about our rate lock programs near you.
Sources: Bloomberg, CNBC, CNBC, Mortgage News Daily