Market Update: Rates Rise; Case-Shiller Home Price Index, Pending Home Sales, and Construction Spending Coming Up This Week
Blog posted On September 27, 2021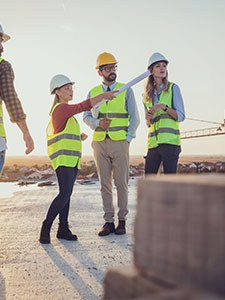 Last week, the Federal Open Market Committee (FOMC) decided to leave the benchmark interest rate unchanged. However, more members predicted that the first rate hike will occur next year as opposed to 2023. Consequently, mortgage rates reacted by trending higher. In his press conference last week, Federal Reserve Chairman Jerome Powell mentioned that the "test for substantial further progress on employment is all but met therefore a gradual tapering process that concludes around the middle of next year is likely to be appropriate." A large deciding factor will be the upcoming jobs reports next month.
This week, the housing market has several market-moving reports scheduled for release. On Tuesday, the Case-Shiller home price index is scheduled, followed by the pending home sales report on Wednesday. August's construction spending report will be released Friday morning.
The S&P Case-Shiller home price index tracks changes in the value of homes involved in two or more sales transactions across 20 major metropolitan areas throughout the country. Though the data lags by a month, it is still used to gauge home price appreciation trends. Home prices soared 19.1% year-over-year in June. Month-over-month, home prices increased 1.8%. Persistent demand coupled with low home inventory continue to put pressure on home prices. Although supply has been increasing monthly, it is still slightly lower than its level from this time last year. Many experts believe that home prices should start leveling out soon. While they won't necessarily fall, they should start increasing by smaller percentages. The Case-Shiller home price index legs by two months, so it may take a little more time to see the results in the data.
The pending home sales index tracks changes in the number of homes that are under contract but not yet closed. Pending sales fell 1.8% in July – marking the second monthly decline in a row. There could be several reasons causing the decreases in pending sales, including the limited inventory and steep home prices. Luckily, "inventory is slowly increasing and home shoppers should begin to see more options in the coming months," said Lawrence Yun, chief economist for the National Association of REALTORS® (NAR).
The U.S. construction spending report tracks total spending on private and public construction projects. Construction spending inched up 0.3% in July. The 9% annual gain brought the level of construction spending to $1.57 trillion. The main contributor to the increase was the 26.5% climb in residential construction spending. Nonresidential spending fell 4.2%. Within residential spending, private residential construction spending rose 27% year-over-year. Nonresidential private construction spending fell 3.6%. Home builders are quickly working to add homes to the market.
Also scheduled for release this week is the FHFA home price index, the weekly mortgage application survey and jobless claims report, GDP, PCE, personal income, and consumer spending.
When the market is hot and available homes are limited, some buyers might find it hard to purchase the perfect, move-in ready dream home. One way that many buyers are breaking into homeownership is by purchasing a fixer-upper. With a fixer-upper, you can purchase a house at a lower price and customize it however you want. If you're curious about our loan options that can help you purchase a fixer-upper (like a 203(k) Renovation Loan), let us know.
Sources: Bloomberg, CNBC, CNBC, MarketWatch, Mortgage News Daily, The Real Deal