How to Finance a Home Renovation
Blog posted On July 29, 2021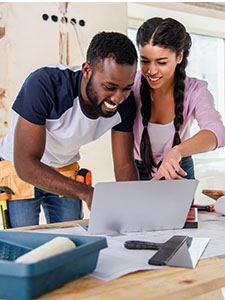 When the housing market has a limited supply of homes, many owners opt to renovate or upgrade their existing home rather than move to a new home. Not only can this help improve your living area, but it can boost your home's resale value as well. Plus, there are several different options that can help you finance home renovations.
203(k) Renovation Loan
A 203(k) Renovation Loan is a type of FHA Loan that offers homeowners a longer-term repayment option for home remodeling projects. With the 203(k) Renovation Loan, homeowners have one application, one approval process, one closing, and one mortgage payment. Plus, you get all the qualification benefits of an FHA Loan including a lower credit score and down payment. Other eligibility requirements include:
A debt-to-income ratio (DTI) of 43% or less

Mortgage and repair costs that fall within FHA Loan limits in your area

Renovations on a 1-4 unit primary residence

Minimum renovation cost of $5,000
There are two different types of 203(k) Renovation Loans – the Limited 203(k) and Standard 203(k).
Limited 203(k) — Repair maximum of $35,000. Homes must be habitable while undergoing renovations. No structural changes allowed. Half of payment is required when renovations begin, half when they are completed.

Standard 203(k) — No repair price limit. Home can be uninhabitable during renovations. Structural changes allowed. Phased payment schedule.
Certain renovations or additions don't qualify for 203(k) financing, such as:
Pools (existing pools can be repaired)

Outdoor fireplace addition

Satellite dishes

Building barbecue pits

Paving tennis courts

Making other 'luxury' feature additions
All In One Loan™
The All In One Loan™ is an offset mortgage program that combines home financing with personal banking. Not only is the All In One Loan a 30-year HELOC, but it is a sweep-checking account as well. With a HELOC, you can tap into your equity whenever you need and use it to help finance things like home improvement projects. Eligible All In One Loan borrowers must:
Provide proof of employment history and verifiable income

Have a credit score of 700 or above

Have reserves of 10%* of your line of credit amount or more

Be applying for a loan of $2 million or less
The All In One Loan also offers several unique features that help you lower the cost of your mortgage and maximize the benefits of homeownership:
Applies payments to your principal first

Interest is calculated daily

Equity is accessible 24/7

Money can be transferred through ATM-Visa, checks, bill pay, and mobile banking
Cash-Out Refinance
Like the All In One Loan, a cash-out refinance will allow you to take out cash in exchange for part of the equity you have built in your home. To qualify for a cash-out refinance you will need at least 20%* equity. Once you have built enough equity in your home, you can use a cash-out refinance to pay off your existing home loan and replace it with a new, larger mortgage. Then, you would receive the difference between the two loans in cash. For example, if your home is valued at $300,000 and your current mortgage balance is $200,000, you have $100,000 in home equity. With a cash-out refinance, you can make a new home loan higher than your previous balance of $200,000, but normally it will not be able to exceed 80%* of your home's value. Therefore, your new loan would be a maximum of $220,000, giving you $20,000 in cash. The best way to use this cash is toward high-return investments like home renovations or paying off high-interest debts. Plus, when you refinance, you have the opportunity to lower your interest rate and reduce your monthly mortgage payment.
Credit Card
If your home renovations are relatively inexpensive, then financing them with a credit card could be an option. "The interest rates on credit cards can be high, so it's important to be smart with how you use them," says Linda Bell, a personal finance expert at NerdWallet. "Some cards give rewards for spending on home improvements or offer a zero-percent introductory period to help save money on interest, just make sure you pay the full balance before the offer expires and the interest rates climb."
Home renovations can be a great alternative to purchasing a new home if you like your current home's location. If you choose to refinance, you could lower your interest rate and monthly payment as well. To explore your home renovation options, contact us today!
*Payment example: If you choose a $250,000, 30 year loan at a fixed rate of 3.3% (APR 3.5%), you would make 360 payments of $1,122.61. Payment stated does not include taxes and insurance, which will result in a higher payment.
Sources: Martha Stewart