How to Choose the Best Mortgage Fit
Blog posted On March 24, 2022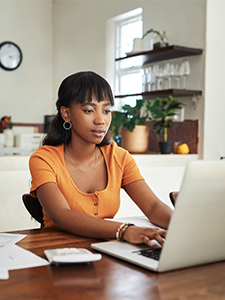 Shopping for a home is the fun part. Then comes the mortgage shopping. Conventional loans have long reined as the most popular type of home loan. But there are a few more options out there, such as FHA Loans, VA Loans, USDA Loans, Jumbo Loans, Renovation Loans, and all kinds of specialty programs. Not to mention the different loan terms and mortgage rate options. Deciding on what's right for you may feel overwhelming, but with these five steps, you can find your perfect mortgage fit in no time.
Get preapproved
The first step to figuring out which mortgage is best for you is by getting a better understanding of how much home you can afford. While mortgage calculators and self-budgeting can help, they can't tell you how much a lender will provide for your mortgage. Getting preapproved can. Applying for preapproval is easy, and can normally give you an answer in a matter of days.
Set a budget (including upfront and maintenance costs)
Once you know how much your lender will loan you, then you can start setting more realistic expectations of your budget. Your loan amount does not include upfront costs like down payment and closing costs. It also doesn't cover maintenance costs down the road. So you'll likely want to keep that in mind when making your budget.
Evaluate different loan terms
Most people have heard of a 30-year mortgage. But there are more options out there. We offer several different loan terms ranging from 10-year mortgages to 30-year mortgages. Remember, the longer the loan term, the lower your monthly payments. As you begin to decrease the amount of time you have to pay your mortgage back, you will see higher monthly costs.
Explore different loan options
Conventional Loans – Low down payments available.
FHA Loan – Low down payments available.
VA Loan – 0% down payment for reservists, active-duty military members, National Guard service members, and surviving military spouses.
USDA Loan – 0% down payment for home buyers in select rural and suburban areas.
All in One Loan™ -- Apply payments to your principal first, access home equity whenever you need it, and calculate interest daily.
Understand mortgage rates
Your mortgage interest rate reflects the amount of interest you will pay throughout the life of your loan. When picking your mortgage, you will likely have two options for your rates – fixed-rate mortgage or adjustable-rate mortgage (ARM). A fixed-rate mortgage loan will have the same rate through the life of the loan. An adjustable-rate mortgage will typically have a lower introductory rate, though the rate will rise as time goes on and follow the market rate trends.
It's right for you can be hard to do alone. With the help of a loan officer, you can get one-on-one guidance and personalized financing solution tailored to your individual needs. To find your perfect mortgage fit, click "Get Started" above or contact us today.
Sources: NerdWallet