How a Renovation Loan Can Help You
Blog posted On February 10, 2022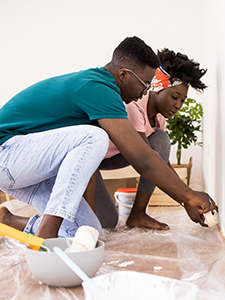 Searching for an affordable home in a competitive market can be difficult. Not only are you competing with other buyers, but with high home prices as well. A good option that can help expand your home search is a Renovation Loan. A popular renovation loan option is the FHA 203(k) Renovation Loan. But there are actually several options of Renovation Loans that can help you make your dream home a reality.
FHA 203(k)
An FHA 203(k) combines the costs of a home purchase (or refinance) with the costs of home renovations. There are two main types of FHA 203(k) Loans. The Limited FHA 203(k) Loan is commonly used for renovations up to $35,000. To be eligible for this loan, your home must be habitable while undergoing renovations. No structural changes are allowed during these renovations. In other words, a Limited FHA 203(k) can be a good option for cosmetic changes. The Standard FHA 203(k) is the better option for larger renovations that include structural changes. With the Standard FHA 203(k), there is no repair price limit, and the home can be uninhabitable during renovations.
Fannie Mae HomeStyle® Renovation or Freddie Mac CHOICERenovation
The Fannie Mae HomeStyle® Renovation and Freddie Mac CHOICERenovation also combine the costs of a home purchase (or refinance) with the costs of home renovations. These loans offer low down payments for primary residence homes. They are also available for second homes and investment properties. Unlike other types of Renovation Loans, these can include swimming pools or outdoor living areas. The maximum loan amount for these types of loans is $1,000,000.
Home Equity Line of Credit (HELOC)
A HELOC uses the equity you have built in your home as a revolving line of credit. Withdraw money from your HELOC to finance home renovations. Interest expenses on home improvements can be tax deductible. They also have lower interest rates than credit cards or personal loans, and can be utilized over time, rather than the single withdrawal of a cash-out refinance.
To learn more about how Renovation Loans can help you purchase in a busy market or remodel at a lower cost than credit cards, contact us today!