Housing Market Heat to Continue this Fall
Blog posted On August 31, 2021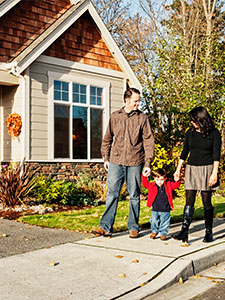 In a normal housing market, home sales would begin to slow down around the beginning of Fall. However, the world has been far from normal over the past 18 months. When the pandemic began, many experts believed that the housing market would suffer. But it turned out to be an economic life raft for the U.S. – thriving with eager buyers and owners looking to take advantage of record-low rates. Since then, home sales have been consistently soaring despite seasonal changes. Almost two years later, many people are wondering, when will it end?
The short answer is, not anytime soon. "I expect an unusually busy fall season," said George Ratiu, chief economist of Realtor.com. "Sellers are putting homes on the market. Normally, this activity happens early in the spring." Plus, demand is still sky high and will likely remain high through the end of the year. Mortgage rates are sitting near historic lows and the Fed has yet to announce a plan to raise the benchmark rate. "The fear of missing out on what could be a once-in-a-lifetime deal, [record-low rates], will likely entice additional buyers," wrote a National Association of REALTORS® (NAR) contributor.
While many experts previously predicted that the Fed would begin raising rates and tapering asset purchases this Fall, the rise of the Delta variant has been an unexpected turn. In general, when the economy is doing better, interest rates start to rise. If the economy is struggling more, then rates typically trend lower. As Realtor.com put it, "the fast-spreading Delta variant of COVID-19 […] remains a wild card for the housing market."
Nevertheless, the Fall housing market should be very strong. "It just won't be as frenetic as what had been experienced earlier in the year," said Greg McBride, chief financial analyst at Bankrate.com. Housing inventory is slowly starting to increase – up by 7.3% in July – easing the upward pressure on home prices and buyer competition. For the past year and a half, the demand for homes has far outweighed the supply. But that's starting to change. "We're seeing the gap narrowing between demand and supply," Gay Cororaton, director of housing and commercial research at NAR. "There's still a huge, huge gap." So don't expect a smooth purchase with no-competition if you're looking in a popular market. "Homes that stand out for one reason or another are still flying off the shelf," said Ali Wolf, chief economist at Zonda, a building consulting firm. In July, 89% of homes were on the market for less than a month, according to NAR and 60% of home offers had competition, according to Redfin.
Though the weather may be cooling down soon, the housing market is poised to remain red-hot. Buying or refinancing now could be a once-in-a-lifetime chance to snag record-low mortgage rates. So, if you're interested in reaping some low-mortgage rate rewards, then get started on your preapproval today! Getting preapproved is an easy first step that can help you make a stronger offer in the face of competition.
Sources: Mansion Global, NAR