Homeownership Remains a Key Factor in Building Long-Term Wealth
Blog posted On March 15, 2022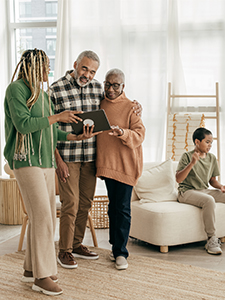 A recent study by the National Association of REALTORS® (NAR) showed that homeowners have accumulated nearly $150,000 in housing wealth over the past five years. As home prices continue to rise, homeowners continue to benefit from rising equity.
Homeowners who purchased their home 10 years ago have gained even more. The typical single-family homeowner who purchased a home at median sales price in 2012 is likely to have accumulated $229,400 in housing wealth, with 86% of the wealth gain attributed to price appreciation. "Middle-income households in these growing markets have seen phenomenal gains in price appreciation," said NAR chief economist Lawrence Yun. "Given the rapid migration and robust job growth in these areas, I expect these markets to continue to see impressive price gains."
As of Q4 in 2021, the areas with the largest price gains over the past decade are:
Phoenix-Mesa-Scottsdale (275.3% appreciation)

Atlanta-Sandy Springs (274.7% appreciation)

Las Vegas-Henderson-Paradise (251.7% appreciation)

Cape Coral-Fort Myers (233.9% appreciation)

Riverside-San Bernardino-Ontario (207.6% appreciation)
The Phoenix and Atlanta areas were both considered middle class from 2010 to 2020.
"Owning a home continues to be a proven method for building long-term wealth," Yun said in a statement. "Home values generally grow over time, so homeowners begin the wealth-building process as soon as they make a down payment and move to pay down their mortgage."
With home prices and inflation flourishing at record paces, homeowners have been benefitting greatly over the past few years. However, it's important that these homeowners have fixed-rate mortgages, so that their rates don't rise with the market rates. Mortgage rates tend to follow the trends in the bond market, and the bond market does not react well to inflation.
As the conflict in Ukraine continues to put upward pressure on inflation, mortgage rates have been continuing to rise. Just last week, inflation hit a fresh 40-year high according to the consumer price index. The Federal Reserve's interest rate decision coming up on Wednesday is expected to help ease some of the accelerating inflationary pressures. Many experts are predicting a 0.25% increase of the benchmark interest rate. While this may not sound initially appealing to consumers, it could prove to be beneficial for several reasons. Rate hikes could help:
Cool inflation increases

Ease upward pressures on consumer prices

Stabilize the hot housing market

Increase housing supply
If you would like to learn more about the upcoming Fed meeting or market trends, let us know.
Sources: HousingWire