Home Prices Cooled at Fastest Recorded Pace in June
Blog posted On August 02, 2022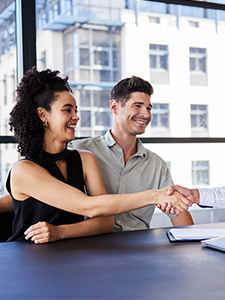 Black Knight analytics is bringing good news to home buyers. Home price gains are officially slowing down, according to the data firm.
In June, the annual pace of home price appreciation slowed by two percentage points. As demand wanes and housing supply expands, more home sellers have been forced to make price cuts. They're also not seeing the excessive over-asking-price offers from a year ago. What does this mean for buyers?
Less competition – A large cause of home prices cooling can be attributed to a greater supply/demand balance; more houses are becoming available and fewer buyers are actively purchasing, easing the pressure to make offers over asking price.
More options – The supply of homes for sale has jumped 22% in the past two months, according to Black Knight, putting buyers a better position to get the home they want without having to sacrifice certain features or stretch their budget.
Better deals – With price gains cooling, price cuts increasing, and mortgage rates trending lower recently, it's likely that buyers can find better deals in the market now compared to previous months.
"The [home price] slowdown was broad-based among the top 50 markets at the metro level, with some areas experiencing even more pronounced cooling," said Ben Graboske, president of Black Knight Data & Analytics. "In fact, 25% of major U.S. markets saw [price] growth slow by three percentage points in June, with four decelerating by four or more points in that month alone." This marks the sharpest cooling of national home prices ever recorded.
Additionally, mortgage rates have been trending significantly lower since the middle of June. Several signs in the economy could be pointing to a slowdown coming soon. The GDP estimate for the Q2 of 2022 was negative for the second consecutive month. The Job Openings and Labor Turnover Survey (JOLTs) fell below expectations in June – with the number of job openings and voluntary quits decreasing. The employment report coming out this Friday will be very important as well. Negative GDP data combined with negative employment data are two strong signs of an economic slowdown. While this is challenging for several markets and millions of Americans, it does offer a slight silver lining for people waiting for mortgage rates to cool. Typically, when the economy slows, rates trend lower.
Here's how can prepare:
Make sure you have diversified investments – Try to avoid putting all of your hope in one asset like stocks. Instead, have a variety including stocks, bonds, and real estate.
Have reserves or liquid funds – Most likely, you have a backup plan of some reserve funds. Another good option for liquid money at-the-ready is a home equity line of credit (HELOC) or the All In One Loan™, giving you 24/7 access to your home equity.
Get preapproved – If you've been waiting for rates to trend lower or prices to cool, now might be your chance to jump into homeownership. Get started on your preapproval by clicking "Get Started" above.
If you're interested in learning more about what's to come in the market, let us know.
Sources: CNBC