Home Prices Cooled at Fastest Pace Ever, Offering Hope for Buyers
Blog posted On October 04, 2022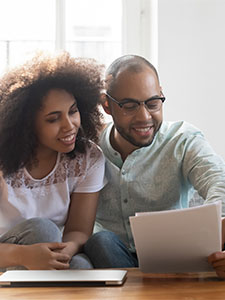 Rent prices took a dip in August but the long-term forecast looks grim for most tenants. According to Realtor.com's chief economist, Danielle Hale, rent prices are expected to rise at an above-average rate through the spring of 2023. Home prices, however, are quickly cooling. Could now be your time to make the switch from renting to buying?
Home price affordability rises; rent price affordability declines
Price gains for both rent and mortgages have spiked aggressively over the past year. And rent gains are expected to persist. Year-over-year rental price growth is expected to continue climbing 5% to 7% according to Moody's Analytics. Meanwhile, home price growth is declining. Not only are prices cooling, but they're cooling at the fastest recorded pace by the Case-Shiller home price index. In July, Case-Shiller home price appreciation slipped 0.4% month-over-month. Year-over-year, price appreciation dropped from 18.7% to 16.1%.
Mortgage rates eventually expected to cool
Another huge factor of home buyer affordability is mortgage rates. Mortgage rates have also climbed drastically since the beginning of the year. While several factors are attributed to the climb, two of the larger factors are inflation and Fed rate hikes. Inflation is still increasing on popular indexes such as the consumer price index (CPI) and personal consumption expenditures (PCE) index. Inflation is the enemy of bonds, and bonds influence mortgage rate trends. The Fed Funds rate has also increased from 0% - 0.25% to 3% - 3.25%. The Fed Funds rate doesn't directly set mortgage rates, but it may impact them. The Fed has stood by its claim that it will continue to put downward pressure on inflation by increasing the benchmark interest rate. However, the Fed can only raise the benchmark rate so high before impacting the economy negatively. Furthermore, the United Nations recently called out the Fed and other central banks, claiming that they need to slow their interest rate increases before putting the global economy into a recession.
Options for current home buyers
Even though home prices are dropping, many buyers are still finding it challenging to break into the current market. But there are several ways buyers can reduce costs when buying. Down payment gifting through HomeFundIt™, 0% down payments with VA and USDA Loans, adjustable-rate mortgages, and more.
If you would like to explore your options, contact us to learn more about our loan programs that could save you thousands.

Sources: CNBC, CNBC, MBS Highway