Government-Backed Mortgages Explained
Blog posted On November 18, 2021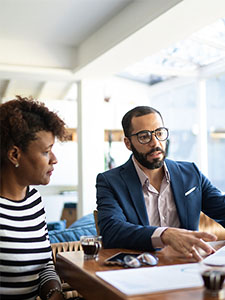 The extensive list of different home loans can be overwhelming, especially for first-time buyers. FHA, USDA, VA – the acronyms can get confusing. But they're worth understanding because they could help you save thousands of dollars on your mortgage.
Government-backed mortgages vs. Conventional Loans
One of the main ways to distinguish between home loans is by determining which are government backed. A government-backed home loan is insured by a federal agency. Because it is insured by a federal agency, it is significantly less risky for lenders, as the agency will repay the loan in the event of a default. This allows lenders to offer government-backed loans at lower rates or even with lower down payments than some Conventional Loans. The three main government-backed home loans are the Federal Housing Administration (FHA) Loan, the U.S. Department of Agriculture (USDA) Loan, and the Department of Veterans Affairs (VA) Loan. Each has different requirements and each offers different benefits.
FHA Loans
FHA Loans are the most widely accessible type of government-backed mortgages. They have no specific location, occupational, or income restrictions and typically have more lenient credit score requirements than Conventional Loans. The lowest down payment option for FHA Loans is 3.5%*. This can be extremely beneficial in a housing market with rising home prices. The FHA Loan can also be used in combination with Chenoa Fund™ Down Payment Assistance – which offers down payment assistance of up to 5% when used with an FHA mortgage. If you do choose to finance with an FHA Loan, you will be required to pay an upfront and ongoing mortgage insurance premium (MIP). Unlike conventional loan private mortgage insurance (PMI), the MIP is not cancellable. For more information on our FHA Loans, visit our FHA Loan product page.
USDA Loans
USDA Loans are available for homeowners and home buyers in select rural or suburban areas. Initially created to encourage rural development, the USDA Loan is still a popular low-interest home loan option for many people. It is one of two home loans that offers 100% financing (0% down payment). Though USDA Loans typically require higher credit scores than FHA Loans and have certain income and location restrictions, they are still a very beneficial financial tool for those who qualify. Unlike FHA Loans, the USDA Loan does not require mortgage insurance – which can save you thousands every year. To check your USDA eligibility, you will need to visit the USDA website or talk with a loan officer. To learn more about USDA Loans, visit our USDA Loan product page.
VA Loans
VA Loans are the other mortgage option that offer eligible buyers 100% financing. To be eligible for the VA Loan, you must be a Veteran, reservist, National Guard member, surviving military spouse, or active-duty military. Similar to the USDA Loan, the VA Loan has no mortgage insurance requirement. It does however require a small funding fee which can be 0.5% to 3.6% of your loan amount. This can either be rolled into your loan or paid at closing. You will also need to provide your Certificate of Eligibility (COE). To learn more about our VA Loan program, visit our VA Loan product page.
While government-backed loans are not a requirement for first time buyers, they are certainly a good option to have. If you would like to explore your eligibility or talk more about any of the programs, contact us. If you'd like to jump into your application, click the "Get Started" button above.
*FHA Payment example: If you bought a $250,000 home with a down payment of 3.5%, for a loan amount of $241,250, on a 30 year loan at a fixed rate of 3.3% (3.5% APR), and a $157/month private mortgage insurance payment, you would make 360 monthly payments of $1,240.00. Payment stated does not include taxes and insurance, which will result in a higher payment.
Sources: Experian