Adjustable-Rate Mortgages Are on the Rise: Are They the Right Move for You?
Blog posted On May 31, 2022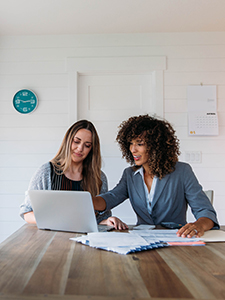 Rising mortgage rates are pushing more home buyers toward adjustable-rate mortgages (ARMs). By March 2022, the ARM share dollar volume for conventional single-family mortgage originations was three times higher than its level in January 2021. Typically, ARMs start at lower mortgage rates than fixed-rate mortgages. This makes them an appealing option for many home buyers when mortgage rates and home prices are higher.
Two weeks ago, the Mortgage Bankers Association (MBA) held a Secondary and Capital Markets Conference & Expo in New York City. At the conference, a panel of non-agency industry experts came to the consensus that ARMs will become more popular in the non-agency space in 2022, "as purchase mortgages increasingly dominate a housing market pivoting to an up-rate environment," writes HousingWire contributor Bill Conroy.
Fixed-rate mortgages have all but dominated originations over the past two years. Mortgage rates were at never-before-seen lows, and most home buyers and owners knew that they would likely never see them reach such lows again. So most people took advantage with a fixed-rate mortgage, giving them the assurance that their rate would remain at these low levels for the entirety of their loan term. There wasn't a huge need for ARMs. But now, everything has changed.
The COVID pandemic was a once-in-a-generation phenomenon. Record-low mortgage rates are gone – and not likely to return. So the current rates we're seeing aren't nearly as earth-shattering as many headlines claim. In fact, mortgage rates generally trended above 5% until about 10 years ago. Nevertheless, higher rates combined with inflation costs and higher home prices understandably can pose a challenge for interested buyers.
And if you or your clients are one of these buyers, an adjustable-rate mortgage could be the answer. "Between December 2020 and March 2022, the average mortgage rate on 30-year, fixed-rate mortgages (FRM) jumped up by 149 basis points or 1.49%, whereas rates on 5/1 adjustable-rate mortgages (ARMs) increased by only 40 basis points for the same period," writes Archana Pradhan, principal, economist as part of the Office of the Chief Economist at CoreLogic. The difference in between these monthly mortgage payments would be substantial during the ARM introductory period. It becomes trickier if you plan on owning your home for a longer period of time beyond the initial introductory ARM period.
ARMs can be a useful mortgage tool for some, but they may not be right for everyone. To see if it could be a good fit for you, contact us today. To learn more about adjustable-rate mortgages, check out our mortgage blog.
Sources: CoreLogic, HousingWire, Mortgage News Daily