A Home Buyer's Guide to Moving: What to Buy and What You Can Get Free
Blog posted On August 18, 2021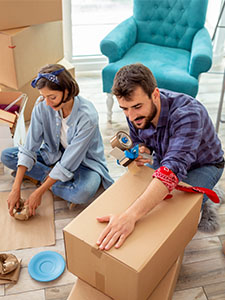 According to Moving.com, the average cost of a local move is $1,250. The cost of a long-distance move is $4,890. Though these costs might seem steep, there are certain moving purchases that could save you thousands in the long run. Others, you might be able to do without.
What to Buy
Packing paper
You may think that using your Sunday comics will do, but using newspaper can be a risky alternative when packing certain items. Newspaper is thinner and flimsier than packing paper – leaving your valuable items at a greater risk of breaking. Plus, the ink on newspaper can rub off on items if it gets too hot. Packing paper offers more protection for your valuables. It comes in two different textures – honeycomb and smooth – both ink-free and harder to rip than newspaper. Honeycomb packing paper is great for extra delicate items because it has a little more cushioning than smooth paper. Though it's slightly more expensive (around $20 to $25), it's better for breakable items like glass and crystal. Smooth packing paper is more like newspaper in texture but is a bit sturdier. It's cheaper than honeycomb paper ($5 to $15) and can be good for more everyday items.
Moving blankets
Moving blankets have more cushioning than your average couch quilt. This protects your belongings better. While couch quilts are designed for comfort, "moving blankets are thick with a texture designed for the purpose of moving and transportation," says Mike Glanz, president of moving services at HireAHelper.com. Glanz recommends using moving blankets for things like electronics and televisions. For less valuable items, you can use blankets and sheets. The cost of moving blankets may vary depending on where you purchase them from, as well as the number type of blankets you purchase.
Flat-screen TV box
After you wrap your television in a moving blanket, Glanz recommends securing it with shrink wrap, and putting it in a well-taped TV box. "TV boxes may seem frivolous and expensive, but this item could literally save hundreds of dollars in damages, due to the secure design," says Glanz. Spending $20 to $30 on a TV box is a far better alternative than spending hundreds or thousands of dollars on a new TV. When you're transporting your TV, make sure you lay the box flat to decrease the risk of falling and cracking.
Shrink wrap with dispenser
Shrink wrap works well in tandem with moving blankets. It can be hard to tape these blankets together so shrink wrap can provide that extra security. "Shrink wrap provides a tight, secure layer around whatever it is you are moving. Five-star movers use shrink wrap on every move," says Glanz. Though it can be moderately expensive ($65 to $100), it's a solid investment for extra security.
What to Get Free
Cardboard boxes
Boxes are an important part of the moving equation, but you don't necessarily have to buy brand new boxes to move. Many people have old boxes laying around, which would work perfectly in tandem with packing paper. If you don't have enough boxes of your own, Glanz suggests checking out Facebook Marketplace and Nextdoor for cheaper alternatives to brand new boxes. "I recommend starting to collect boxes as soon as you know you are going to move—2-3 months in advance is ideal for collecting to ensure that you collect enough boxes in time for your big move," says Glanz.
Bike box
Not everyone has to dissemble their bike for moving, and some may have a box that came with it. But for those who don't have a bike box, it might be a good idea to call around different bike shops to see if they have any they could spare. "For those who really care about their bike, we recommend a bike box similar for the same reasons I recommended using a TV box," says Glanz.
Blankets
Moving blankets are good for expensive and valuable items, but for less costly items, household blankets and sheets might be fine. "Think about whether that old sleeping bag, or overly-loved blanket could be useful as padding and throw it out after the move," says Certified financial planner Bobbi Rebell. "Linens, sheets and towels can be great for packing household items."
With all of the money you spend on a home purchase and all the time you spend moving, you want to make sure that all of your belongings get there safely and in one piece. Many professional movers might load and unpack trucks for you, but it will oftentimes be your responsibility to pack your stuff in boxes – and you'll want to make sure you do it right!
Sources: MarketWatch