7 Tips for a Successful Refinance
Blog posted On August 04, 2021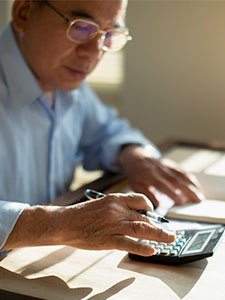 Refinancing your home while interest rates are low can be a great financial choice. There are many benefits to refinancing your home, but before jumping in, it's a good idea to have a game plan about why you are refinancing in the first place.
Set a refinancing goal
Though interest rates are historically low, lowering your mortgage rate isn't the only reason why people refinance. Some other ways you could take advantage of a refinance include:
Switching from an adjustable-rate mortgage (ARM) to a fixed-rate mortgage

Shortening your repayment period to 15 years

Canceling costly mortgage insurance

Trading in equity for cash
Determining your purpose for refinancing can help you find the best mortgage product and plan for your needs. For example, you likely wouldn't want to just do a rate and term refinance if you have several other high interest debts you could consolidate with a cash-out refinance.
Check your home equity
Equity is a homeowner's most powerful asset. In short, equity is the difference between your home's current market value and the remaining balance on your mortgage. So, if your home is currently valued at $350,000, and you still owe $200,000 on your mortgage, you have $150,000 in equity. Equity is typically represented as a percentage and is calculated by dividing your cash equity number ($150,000) by your home's current market value ($350,000). Then, multiply that number by 100 to get your percentage (43%). The more equity you have, the better. If you've built enough equity in your home, you can opt for a cash-out refinance, cancel your mortgage insurance premiums for conventional loans, and potentially qualify for lower interest rates and fees.
Check your credit score
Your credit score shows lenders how well you manage your finances and can affect what rates and mortgage products you qualify for. The higher your credit score, the more mortgage products you can use and the lower mortgage rates you will likely receive.
Make sure refinancing will pay off
For a refinance to make sense, you will need to account for the different costs associated. Closing costs on refinances are typically between 2% and 5% of the loan amount. To see if a refinance will pay off, you should calculate the breakeven point – when your refinance savings surpass the cost. You can determine your breakeven point by dividing your closing costs by the amount of month you will save per month. If your closing costs are $4,500 and your monthly savings are $100, your breakeven point would be 45 months. So, a refinance could be worth it in this scenario if you plan on living in your home for at least the next 45 months.
Ask us about Fannie Mae RefiNow
Fannie Mae RefiNow guarantees that eligible homeowners will get an average interest rate reduction of 0.25% from their qualifying market mortgage rate. Fannie Mae RefiNow is available for homeowners whose income is less than or equal to 80% of their Area Median Income (AMI). To qualify for Fannie Mae RefiNow, your loan must be a conventional loan owned or securitized by Fannie Mae. To find out if your loan is owned by Fannie Mae, click here.
Gather the necessary paperwork
Once you are ready to apply for your refinance, you will need to gather the following documents:
W-2 forms

Information about your current home loan

Property taxes

Homeowners insurance

Two years of bank statements (for self-employed borrowers)

Credit history

Identity information like your driver's license, SSN, sate of birth
Lock in your rate
Rate locks will guarantee that your interest rate won't increase before closing and typically last 15 to 60 days. Closings can take around 30 days – and a lot can happen to mortgage rates in 30 days. So, to make the most of historically low rates, be sure to ask us about our rate locks.
With the July 2021 removal of the Adverse Market Refinance Fee, refinancing is cheaper than it's been in past months. Historically low rates won't last forever, so ask us about your refinancing options today!
Sources: Money