6 Ways to Create the Perfect Outdoor Space
Blog posted On May 11, 2022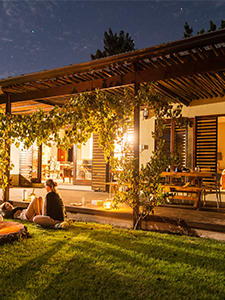 It's that time of year again! Temperatures are starting to rise, which means people are beginning to spend more time outside. Is your outdoor space ready to start hosting your family and friends? Here are some tips on creating the perfect outdoor space that will prepare you for your upcoming outdoor gatherings.
Create a gathering and eating area
Creating a space where your guests can lounge comfortably, whether they are eating or enjoying a conversation, is essential to ensuring that they are comfortable and enjoying themselves.
Purchase or build a fire pit
A fire pit helps create a space where friends and family can sit together and enjoy each other's company. A fire bit can be built or purchased at most home goods stores.
Outdoor lighting
As the sun sets, your outdoor lighting sets the tone for the rest of the evening. Depending on your space, there are plenty of options. You can hang string lights on the deck or between trees, hang sconces, or use solar lights to illuminate areas that are harder to see at night.
Add plants and/or garden
Not only is gardening relaxing, but adding a lot of greenery to your outdoor space can make for excellent outdoor decor and help bring the final touches to your space. This can be anything from building your own planters, hanging plants, or even installing shrubs and bushes to help give your space some extra privacy.
Add a pergola
Pergolas help extend your outdoor living space. It gives enough shade to make a warm summer evening more enjoyable. Do you love a good DIY? You can find pergola kits that come with all the parts needed. This is a great cheaper option instead of having a contractor come and build.
Electronic Equipment
Adding outdoor speakers and televisions to watch the big sports games is a great way to top off the perfect outdoor space. They can be installed in several different places like your pergola, outdoor kitchen area, or around the pool.
Get outside this summer and make some memories with friends and family – get started on make the perfect outdoor space today!
Sources: Realtor.com