3 Ways to Save Thousands on Your Mortgage
Blog posted On January 12, 2022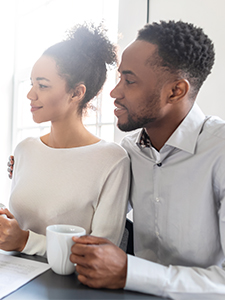 Purchasing a home will likely be the largest investment of your life. While there are several actions you can take to lower the cost of your home upfront, there are also ways you can save money even after you've reached the closing table.
Explore refinance options
When mortgage rates are low, many people jump at the opportunity to refinance their loans. Refinancing your mortgage to a lower interest rate can be a huge financial asset. If you have a 30-year loan of $400,000 with an interest rate of 4.35%*, you'll end up paying $316,849 in interest alone. If you decide to refinance a couple years down the road and get a new 30-year loan for $387,000 at 3%* interest rate, you could bring your total interest down to $200,379. Or you could shorten your term to 15 years and spend just $94,059 in total interest.
Use a local lender
Refinancing with a local lender offers several benefits:
Timely closings – Local lenders typically close faster than big banks, especially if your local lender is a direct lender, like us.

Excellent service – Unlike big banks, local lenders tend to offer more personalized service, walking you through the loan process step by step.

Local knowledge + connections – Local lenders also have more expertise in the community area and offer several useful connections.

Competitive rates – Sometimes, local lenders can offer better interest rates than online banks.
Try to buy points
Buying points from your lender upfront can help you save money on interest in the long run. For example, each point might cost around 1% of your loan and with every point you buy, you could lower your interest rate by around 0.25%. So if your loan is $400,000, every point would cost $4,000. Lowering your mortgage rate from 4.35%* to 4.10%* would save you roughly $20,000 over the life of your 30-year loan.
Refinancing to a shorter term, different loan, or lower interest rate can help you save exponential amounts on your mortgage. If you don't know where to start or are wondering what interest rates you could qualify for, let us know.
*Payment example: If you bought a $400,000 mortgage with a 30 year loan at a fixed rate of 4.35% (APR 4.5%), you would make 360 payments of $2,027.00. Payment stated does not include taxes and insurance, which will result in a higher payment.
Sources: Business Insider