Home Sales to Reach 16-Year High; Buyers Have 'Much to Look Forward to' in 2022
Blog posted On January 18, 2022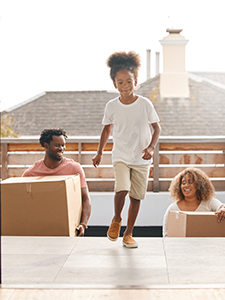 Mortgage rates may be inching up, but home buyers show no signs of slowing down. According to Realtor.com's 2022 Housing Market Forecast, existing home sales are expected to surge 6.6% this year – bringing their annual total to a 16-year high. Despite challenges of affordability and availability, "home buyers have much to look forward to in 2022," writes Danielle Hale, chief economist of Realtor.com
More Choices
Home inventory has scraped record lows over the past two years, throwing even more fuel into an already hot market. Buyer demand has been soaring due to historically low mortgage rates and the COVID-related desire for more space. The predicted 2020 to 2021 change in existing home inventory is expected to be -18%. The limited number of homes on the market led many buyers into bidding wars and higher prices. In 2022, existing home for-sale inventory is expected to increase. A quarter of all homeowners plan to sell their home this year, which will be a huge boost for prospective buyers. Nearly 90% of all real estate transactions are from existing home sales. The number of new homes for sale is set to increase in 2022 as well. "An eventual easing of supply pressures and low inventories should be supportive of building activity even as mortgage rates rise next year," said Rubeela Farooqi, chief U.S. economist at High Frequency Economics, in a research note. And Jacob Passy, personal finance reporter for MarketWatch, noted that "market conditions are highly supportive of a fast pace of construction." With more new and existing homes to choose from, buyers should see fewer bidding wars and more choices in the market this year.
Slower Price Growth
Home prices were surging at record-breaking paces over the past year. But they seem to have hit their peak. Though they are still inching up every month, they've started to level out. According to the 20-city Case-Shiller home price index, home prices increased 18.4% month-over-month in October, down from 19.1% the month before. Part of the upward pressure on home prices has been the limited inventory. But as more sellers plan to list their homes and more newly built homes enter the market, some of this pressure could ease. Another factor pushing rates higher has been the high levels of inflation. Just last week, the consumer price index reported a 7% annual gain – the highest level in 40 years. However, the Federal Reserve is taking several actions to help combat these high levels of inflation, which should be reflected in price cooling throughout the year.
More Savings
Both renting and buying a home has cost more over the past year. But recent reports have shown that buying is still more affordable than paying rent. Even though home prices are appreciating at a faster pace than rent, the cost of rent is still taking up more of the average American's salary than the cost of a monthly mortgage payment. And some economists expect this trend to continue this year. "At a national level, we forecast rent growth of 7.1% in the next 12 months, somewhat ahead of home price growth as rents continue to rebound from slower growth earlier in the pandemic," writes Chief Economist Danielle Hale of Realtor.com.
Overall, "Americans will have a better chance to find a home in 2022," writes Hale. However, this isn't to discount the level of competition. Home buyers will likely continue to face "fierce competition" and fast closings on sales. In a competitive market, it's imperative you're prepared. Without a letter of preapproval, you likely will have a harder time making the winning offer on your home. Luckily, to get started on your preapproval, all you have to do is click the 'Get Started' button above.
Sources: CNBC, CNBC, Realtor.com, Realtor.com, S&P Global