What to Know Before Buying Your First Home
Blog posted On November 04, 2021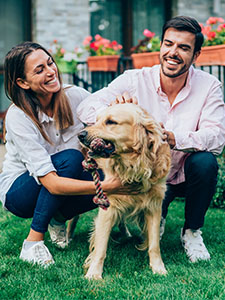 Buying your first home can be intimidating, and if you ask a lot of homeowners, they would've done certain things differently. To guide you in your first home purchase process, here are six quick tips that can save you time and money.
Visit the home at all times of the day
Visiting a home at an open house won't give you a full picture of what the neighborhood is like. Try to visit the neighborhood at all hours of the day. Are there dogs barking? Are the neighbors noisy? Most importantly, make sure that you feel safe.
Don't be afraid to negotiate
When the market is busy, you might be hesitant to negotiate a sales price. If there are multiple buyers looking at a home, it's likely that you won't be able to negotiate a lower price. In fact, the house will probably get offers over asking price. However, if you're the only buyer looking at a home and you or your real estate agent feel that it's overpriced, that might be worth negotiating.
Explore down payment assistance options
Down payments are one of the biggest hurdles for first-time home buyers. And as home prices rise, they are only getting more expensive. However, there are several down payment assistance opportunities that can help cover some or all of the costs of a down payment. For example, USDA Loans and VA Loans both offer 0% down payment for eligible buyers. The Freddie Mac BorrowSmartSM Program also offers eligible buyers up to $2,500 towards their down payment or closing costs. HomeFundIt™ is a down payment gifting platform that allows home buyers to raise money toward their down payment through an online campaign. Unlike other down payment gifting options, HomeFundIt™ allows contributors to easily gift money online with their credit or debit cards.
Make sure you understand mortgage insurance
In most cases, you will be required to pay private mortgage insurance (PMI) when you finance with a Conventional Loan and have a down payment of less than 20%*. Once you reach 20% home equity, your mortgage insurance payments can be canceled. But it's important to note that these payments are not canceled automatically. "A mistake I made with my first home was not truly understanding how private mortgage insurance worked," said Amy White, founder of the blog Daily Successful Living. "I assumed that as my home gained value, my bank would automatically remove the PMI when the value went up enough percentage-wise. It wasn't until I asked questions that I realized that I would need a full appraisal done before I could get my PMI removed." Another costly mistake would come with the assumption that mortgage insurance premiums (MIPs) are the same thing as PMI. Although they are both types of mortgage insurance, MIPs are for FHA Loans. Unlike PMI, MIPs are not cancellable at 20% equity. If you make a down payment greater than 10%**, you can cancel your mortgage insurance after 11 years. However, if you make a down payment of less than 10%, you will not be allowed to cancel your mortgage insurance (unless you refinance to a different type of loan).
Don't just look at the sales price
A common mistake for many first-time buyers is only paying attention to the sales price. In reality, the sales price is not what you'll actually be paying for the home. After interest, property taxes, homeowners insurance, and mortgage insurance, the cost will actually be much higher. Plus, you'll have routine maintenance costs. Many home buyers forget about maintenance costs as well. Typically, home maintenance will cost around 1% of 4% of your home's value every year. So, if your home is valued at $400,000, you should budget around $4,000-$16,000 for maintenance every year.
Get preapproved
Before you start looking at houses, you should get preapproved for a mortgage. The mortgage preapproval will give you an idea of how large of a loan you could get for a home. This can help guide your home search. It can also strengthen your offer when you find a home that you like. When a seller sees that you are preapproved for a mortgage, they know that you'll be able to afford the home.
To get started on your mortgage preapproval, click the "Get Started" button above. For more tips on buying your first home, check out our first-time home buyer page.
*Conventional Payment example: If you bought a $350,000 home and put 20% down, for a loan amount of $270,000, with a 30 year loan at a fixed rate of 3.3% (APR 3.5%), you would make 360 payments of $1,257.00. Payment stated does not include taxes and insurance, which will result in a higher payment.
**FHA Payment example: If you bought a $250,000 home with a down payment of 3.5%, for a loan amount of $241,250, on a 30 year loan at a fixed rate of 3.3% (3.5% APR), and a $157/month private mortgage insurance payment, you would make 360 monthly payments of $1,240.00. Payment stated does not include taxes and insurance, which will result in a higher payment.
Sources: Go Banking Rates