The Dos and Don'ts While Waiting for Closing Day
Blog posted On June 01, 2022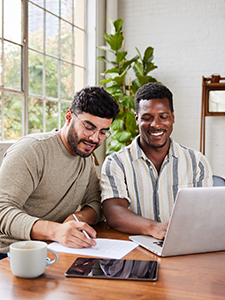 Your offer on your dream home has finally been accepted – but your work isn't finished just yet. While it may be tempting to start purchasing new furniture and décor, it's crucial to monitor your spending until your loan is fully approved. There are other financial aspects you will want to be aware of before you close. Below are six tips on what to do and what not to do while waiting for closing day.
DON'T buy or lease a new car. Adding a new payment can make your debt-to-income ratio (DTI) rise and could keep you from getting approved if it is already on the high end. Also, having a hard inquiry on your credit report could bring your credit score down out of the qualifying range to get approved for a mortgage.
DON'T switch jobs. Lenders like to see job stability and see that you have been in the same position for at least two years. If you are making a lateral move within the same company, it is not as big of a deal, but if you decide to make a big career change, this could hold up the loan process or jeopardize it all together. So, start applying for jobs after you close on your loan if you are looking to make career moves
DON'T run up high balances on your credit cards or open new credit card accounts. Opening a new credit card runs a hard inquiry on your credit report, affecting your credit score. Running up your credit card balances can also raise your DTI ratio.
DO continue to pay your bills on time. Lenders will pull your credit again before closing, and having a late payment pop up on your credit report can drastically bring your credit score down.
DO start shopping around for homeowners' insurance. Once you have decided on your policy, have your agent reach out to the lender so they can give you an idea of your final monthly payment amount for your new home.
DO set up new utility accounts. It is good to get a head start on this to ensure that everything runs smoothly with the transition. Some companies' turnaround times are longer than others, so getting these set up early is good.
Waiting to close on your new home can seem like forever, but it will be here soon enough! If you ever have a question about whether or not something might risk your closing, be sure to ask us first.