The Difference Between Prequalification, Preapproval, and Underwritten Approval
Blog posted On January 20, 2022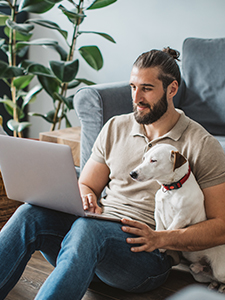 Buying your first home can involve a lot of different steps and terminology that might not sound familiar. You may have heard of mortgage preapproval. But what about prequalification? And underwritten approval? What's the difference between these steps? We're here to break it down for you and help guide you through the process every step of the way.
Mortgage Roadmap
Before diving into the individual steps, it's important to know where they come in the home buying process. Certain steps are fluid – different people might go through the process in a different order. But for the most part, the mortgage process will generally follow the same path:
Prequalification

Preapproval

Home Search

Choose Loan

Negotiate Contract

Lock in Rate

Submit Loan Application

Home Inspections/ Appraisal

Underwriting Review

Underwritten Approval

Final Underwriting Review

Final Approval (Clear to Close)

Walk Through

Closing
Prequalification
Getting prequalified is a good first step to getting a mortgage.
What happens –

All you have to do is submit documents and data to your lender, and they give you a rough estimate of how much money you could qualify for on your mortgage. Prequalification also gives you the chance to share your financial goals with us so that we can help you find the best mortgage fit.

How to –

Getting prequalified is easy, and you can typically start by giving us a call or

applying online

.

What you need –

Proof of income, credit check, employment information, total debt, value of assets.
What you get –

A letter of prequalification can help guide your home search by establishing a rough idea of how much you can afford.
Preapproval
Preapproval will likely be the second step in your mortgage process (if you decide to get prequalified first).
What happens –

You submit an official mortgage application, along with additional documentation. Your lender will conduct an extensive credit and financial background check. Then we will provide a conditional commitment (in writing) stating we will provide you a certain amount of money if certain conditions are met.

How to –

Getting preapproved might take a little bit longer than

prequalification but is still relatively quick and you can get started online

.
What you need –

Proof of income and employment (pay stubs, tax returns, W-2 statements etc.), documentation of financial assets (bank statements, etc.), residential history (previous two years' worth), your credit history (it's also a good idea to check your credit report - not score - here), identity information like your driver's license, Social Security card, and date of birth in order to apply.

What you get –

A letter of preapproval is a huge advantage, especially in a competitive housing market. With a letter of preapproval, you show the seller that you are serious about the purchase and can afford it.
Underwritten Approval
Underwritten approval is one of the final steps before closing on your mortgage. You may get a "clear to close" right away, or you might need to meet a few more conditions before the final approval.
What happens –

The underwriter reviews your loan application as a whole – not just your information, but your loan type, rate lock etc. The borrower has to be ready to answer any and all questions in a timely manner.
How to –

To get an underwritten approval, you will need to complete a mortgage application and a few other steps first. You can get started by clicking the "Get Started" button above.
What you need –

Excellent communication with your mortgage team.
What you get –

A "clear to close" or conditional approval!
We know that buying your first home may feel overwhelming at times, but we're here to make mortgage easy. If you want to learn more, you can check out our "First-Time Home Buyer" page with several great resources including our First-Time Home Buyers Guide.