DIY Projects That Can Boost Your Home's Value
Blog posted On June 15, 2022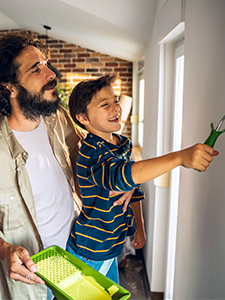 Are you thinking about putting your house on the market? Certain updates can help you maximize profits from the sale of your home. It may be overwhelming to think about the cost of renovations, but there are several medium-to-low-cost updates that can quickly boost your home's value.
Paint – Never underestimate the power of a fresh coat of paint. A newly painted interior gives your home a fresh and clean look that will impress potential buyers. Painting is easy to tackle on your own without having to hire a professional. Remember to stick with neutral paint choices to ensure that it appeals to most buyers.
Update Light Fixtures – Replacing outdated lighting can help bring new life into a space. Light fixtures are usually straightforward to replace without having to hire an electrician. Also, if the bedrooms in your home are wired for a ceiling fan, adding ceiling fans to bedrooms is a popular feature for buyers due to it helping cut down on AC costs.
Refinish/Paint Kitchen Cabinets – Replacing kitchen cabinets with new ones can get expensive. Sanding and repainting your cabinets yourself will save you thousands. Painting the cabinets white and changing the hardware will leave your kitchen a timeless staple of the home.
Replace Flooring – Do you have a lot of carpet in your home? Modern home buyers prefer a home with hardwood floors over carpet. Updating your home to have hardwood flooring throughout can give you a significant return on your investment. While this may seem intimidating to do on your own, it can be done on a small budget with the right tools.
Update Appliances – The kitchen is one of the most significant selling points in a house. Upgrading your kitchen to have new, matching stainless steel appliances can attract buyers to choose your home over a home with outdated appliances.
Getting your home market-ready doesn't have to take away from your savings or down payment. DIY home improvements can help you sell your home for top dollar.
Have you started looking for your next home? Get pre-approved today!
Sources: U.S.News Investopedia